John
é um personagem secundário de Grupo Maluquete.Ele é um homem das cavernas congelado em um bloco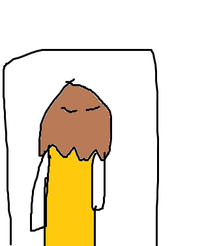 de gelo.
Biografia
Edit
John faz sua primeira aparição em Coração Gelado,um episódio especial da série Mordidas de Amor.Ele aparece como o namorado de Cabeluda.Quando Cabeluda vai beijar ele,sua cara fica presa,já que ele é um bloco de gelo.Cabeluda tenta puxar a cara,e seus olhos ficam presos no gelo.Ela tenta sair,mas seus olhos são arrancados.
John aparece em vários episódios como figurante,sendo que ele aparece em Se Você Não Aguentar o Calor...,como um vendedor de picolé.Ele sempre está em lugares frios,para não derreter.
Ele também aparece no filme Viagem Sideral, Uma Aventura Legal,no entanto,ele não está em um bloco de gelo,já que ele está na pré-história.
Ad blocker interference detected!
Wikia is a free-to-use site that makes money from advertising. We have a modified experience for viewers using ad blockers

Wikia is not accessible if you've made further modifications. Remove the custom ad blocker rule(s) and the page will load as expected.