O
Planeta Maluquete
(apelidado de Mundildo) é um lugar/planeta/personagem de Grupo Maluquete.Ele é o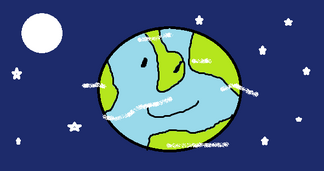 planeta onde a
Vila Maluquete
e a maioria dos lugares de Grupo Maluquete estão localizados.Ele fica em uma galáxia desconhecida,uma galáxia diferente do planeta Terra.Ele é bem semelhante a Terra,desde o seu visual,até o fato de que ele é um planeta com água,oxigênio,etc.Seus habitantes são bem variados.Seres estranhos em formas de círculos chamados de
Circulares
vivem nesse planeta,além de humanos (Anoréxica e alguns figurantes),animais da terra falantes (Bonitinho,que é um coelho e Karamujo que é um caramujo),além de outros seres,como aliens,zumbis,monstros,fantasmas,animais de pelúcia,frutas e até nuvens.É revelado que o Planeta Maluquete é vivo,ou seja,tem vida própria,o que pode explicar terremotos de repente.No entanto,Mundildo,que é o apelido do Planeta Maluquete,vive na maioria do tempo,dormindo.
Ad blocker interference detected!
Wikia is a free-to-use site that makes money from advertising. We have a modified experience for viewers using ad blockers

Wikia is not accessible if you've made further modifications. Remove the custom ad blocker rule(s) and the page will load as expected.